Next-gen home automation, service diagnostics, data analysis and cyber security, orchestration from the cloud, and safety & home security highlight event demos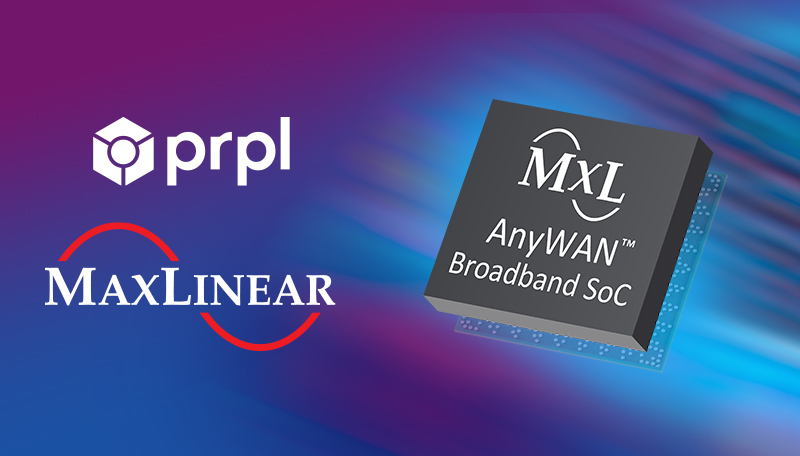 CARLSBAD, Calif.--(BUSINESS WIRE)-- MaxLinear, Inc. (Nasdaq: MXL), a leading provider of cutting-edge broadband access solutions, today announced its continuing support for the prpl Foundation by enabling more than a dozen demonstrations being showcased at the prpl Summit 2023 based on prplOS and MaxLinear's URX universal, ultra-scalable broadband SoCs, AnyWAN™. Through its long-standing support for power-efficient, scalable, and high-performance open-source connectivity solutions, MaxLinear is a leader in enabling access and gateway ecosystems that spawn next-generation functionality and applications. The prpl Summit 2023 will be hosted by Orange at their headquarters in Paris on Monday, October 23.
"The telecommunications industry faces the challenge of swiftly delivering innovation to the market. By employing MaxLinear's URX boards and the prpl Foundation's prplOS on our robust open-source hardware development platform, these developers and operators are empowered with the essential tools to simplify the development and testing of various services," said Will Torgerson, Vice President and General Manager of the Broadband Group at MaxLinear. "We are committed to collaborating closely with our customers to help them build greater value and opportunities into the home connectivity ecosphere."
Operators within the prpl Foundation seek a unified middleware that allows their innovative applications and services to operate across various hardware platforms. The MaxLinear Open Service Platform is a Hardware Design Kit (HDK) that offers a pre-built broadband gateway designed for both ethernet and XGS-PON fiber Home Gateway Units (HGU) for operators, hardware, and software developers alike. It consolidates diverse target applications onto a single platform, streamlining development and accelerating time to market. Developers and operators have the capability to easily test multiple services before customizing their own platform based on AnyWAN.
prplOS is an open-source, enterprise-grade software framework designed to power the next generation of Wi-Fi routers and gateways. Drawing on contributions from community projects as well as commercial software stacks, prplOS will enable a quick and smooth transition from the highly fragmented vendor stacks to a common baseline with APIs and frameworks for high customization and differentiation without sacrificing security or updateability. Utilizing the latest generation of broadband SoCs from the AnyWAN series and the prpl Foundation's prplOS middleware provides a ready-made platform for prpl members to create robust carrier-grade gateway solutions. These solutions are highly adaptable to a wide range of WAN and LAN technologies, offering scalability and independence.
Leonard Dauphinee, President of the prpl Foundation, expressed, "Our collective focus at the prpl Foundation, including all our contributors, is to deliver dependable and secure Customer Premises Equipment (CPE) devices that enable cutting-edge in-home services for consumers. This goal is achieved through collaborative efforts within the industry, leveraging an open-source platform. MaxLinear plays a pivotal role as a valued contributor to the prpl community, providing solutions that embrace the flexibility and strength of open-source software."
The demonstrations showcased at the prpl Summit cover numerous categories of containerized applications including home automation, service diagnostics, data analysis and cyber security, orchestration from the cloud, and safety and home security (Wi-Fi sensing).
About the prpl Foundation
The prpl Foundation is a collaborative open-source community dedicated to open APIs and open industry standards, focusing on carrier-grade software for broadband customer premise equipment as specified by operator members. The prpl Foundation brings together service providers, original equipment manufacturers, system integrators, chip vendors and application developers to harmonize home network architecture, then commonizes a reference implementation of standardized open-source infrastructure built atop open APIs and open industry standards. prpl enables a service delivery ecosystem including innovative third-party applications that can be quickly and easily deployed across different CPE platforms.
About MaxLinear, Inc.
MaxLinear, Inc. (Nasdaq: MXL) is a leading provider of radio frequency (RF), analog, digital, and mixed-signal integrated circuits for access and connectivity, wired and wireless infrastructure, and industrial and multimarket applications. MaxLinear is headquartered in Carlsbad, California. For more information, please visit https://www.maxlinear.com/.