Complete modem, EMTA, and gateway platforms available from MaxLinear's early access OEM partners in 2024.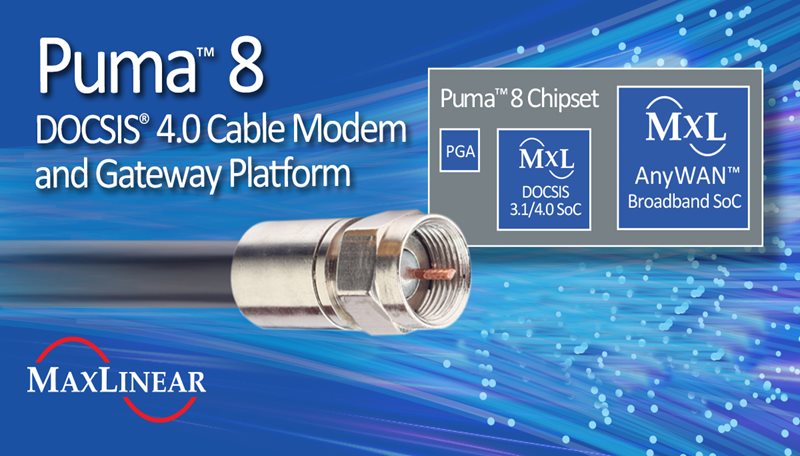 CARLSBAD, Calif.--(BUSINESS WIRE)-- MaxLinear, Inc. (Nasdaq: MXL), a leader in broadband access solutions, today announced the availability of its DOCSIS 4.0 SoC cable modem and gateway platform, Puma 8. Puma 8 builds on the success of its DOCSIS 3.0 and 3.1 predecessors (Puma 6 and 7) and includes all critical elements of a DOCSIS platform, including a low-power, ultra-high split upstream PGA. The platform is compliant to the DOCSIS 4.0 frequency division duplex (FDD) specification and enables immediate large-scale deployments as a DOCSIS 3.1 device with gradual feature expansion options without the need for costly CPE replacements. Complete modem, Embedded Multimedia Terminal Adapter (EMTA), and gateway platforms will be available from MaxLinear's early access OEM partners in 2024.
MaxLinear's DOCSIS 4.0 platform stands out in the market as an energy-efficient, performance-optimized solution. It aligns perfectly with the deployment strategies and technology requirements of leading MSOs. The Puma 8 platform has been specifically tailored to support Extended Spectrum DOCSIS (ESD)/Frequency Division Duplex (FDD), and it boasts a range of energy-saving features. Even at full utilization, its power consumption is impressively low, at just 20-25W, which is almost half that of competing solutions. This low power consumption enables a fan-less design, resulting in not only cost savings but also space conservation. To achieve peak performance with industry-leading low power consumption, MaxLinear employed a collaborative co-design approach, encompassing the DOCSIS SoC, AnyWAN SoC, and the programmable gain amplifier (PGA).
"We've harnessed our extensive IP portfolio and system knowledge to develop a comprehensive DOCSIS 4.0 system and platform, adopting a holistic strategy that encompasses a full suite of interrelated functionalities spanning every aspect of the system," stated Will Torgerson, Vice President and General Manager of the Broadband Business Unit. "MaxLinear's solutions empower service providers with innovation, flexibility, and reliable options."
MaxLinear's DOCSIS 4.0 platform offers MSOs a distinctive opportunity to effectively address the growing demand for internet access bandwidth and increased competition. With the ability to support the full capabilities of DOCSIS 3.1 and the added benefit of field upgradability to DOCSIS 4.0 when needed, the flexibility of this platform provides a significant market advantage: It minimizes service disruptions; ensures a seamless transition to the latest technology; and, optimizes investment in network infrastructure so it is similar to historical technology upgrade cycles, which are significantly more cost-effective compared to full fiber deployments. MaxLinear is dedicated to providing cost-optimized configurations for both EMTA and wireless gateway implementations, thereby reducing platform costs and operational overhead.
DOCSIS 4.0 addresses a critical need by MSOs for higher service rates exceeding 10Gbps. The proliferation of data intensive applications like remote work, VR/IR, online gaming, 4/8K streaming and large numbers of IoT devices continues to rise at a steady rate. Additional complementary improvements in low latency, and the ability to offer symmetrical multi-gigabit internet service options, provide a wider range of options to MSOs for incremental network expansion and service offerings.
Several market leading OEM partners have developed MaxLinear-based DOCSIS 4.0 platforms in preparation of compliance and interoperability testing, field trials, and mass production deployments during 2024. MaxLinear's early access partners include but are not limited to industry leaders like Askey, CommScope, and Hitron.
Access to MaxLinear's Puma 8 chipset will not require any restrictive Joint Development Agreements by MSOs. MaxLinear is committed to advancing innovation by fostering a transparent collaboration environment for interested MSOs and OEM customers.
Customer Quotes
"CommScope Home and MaxLinear have worked together over the last 25 years to create CPE solutions for the Cable Operator and end consumer," said Charles Cheevers, CTO CommScope Home Networks. "We have worked together to define the standards, create the foundational silicon and systems architectures & technologies to create high value broadband solutions for consumers. As we head into 2024 when the first DOCSIS 4.0/10G devices will appear in consumers' homes – we believe that together we have solution offerings that support the speed, latency, low power consumption and cost/value targets of service providers and consumers."
"Hitron was one of the earliest partners of MaxLinear to develop DOCSIS 4.0 solutions based on the Puma 8 platform," said Greg Fisher, President and CTO of Hitron Americas. "Our low power and cost optimized Modem products, based on MaxLinear's Puma 8 chipset, will enable MSOs to accelerate large scale deployments of DOCSIS 4.0 equipment. We believe there is a significant opportunity for scalable deployments which take advantage of core DOCSIS 4.0 features like additional downstream OFDM channels which deliver increased network capacity with higher end customer speeds."
"Askey is building on our successful track record and long history in the DOCSIS space by partnering with MaxLinear on innovative DOCSIS 3.1 and 4.0 solutions," said Robert Lin, CEO Askey. "We have a tremendous amount of history and expertise in this field and recognize MaxLinear as an innovation leader and collaborative partner. We look forward to a close collaboration with MSOs, CableLabs and MaxLinear on making DOCSIS 4.0 a reality in 2024."
About MaxLinear, Inc.
MaxLinear, Inc. (Nasdaq: MXL) is a leading provider of radio frequency (RF), analog, digital, and mixed-signal integrated circuits for access and connectivity, wired and wireless infrastructure, and industrial and multimarket applications. MaxLinear is headquartered in Carlsbad, California. For more information, please visit https://www.maxlinear.com/.