Mainstream HGUs offer cost-effective, highly integrated Wi-Fi 6 G-PON/XGS-PON performance.
HGUs address robust PON equipment market, projects at $35B by 2030.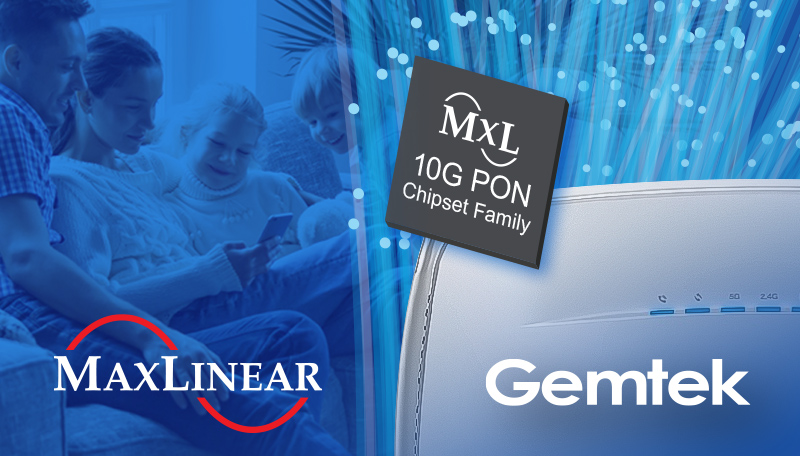 CARLSBAD, Calif.--(BUSINESS WIRE)-- MaxLinear, Inc. (Nasdaq: MXL), a leading provider of leading broadband access solutions, today announced its collaboration with Gemtek for the introduction of two new mid-market Wi-Fi 6 AX3000 PON Home Gateway Units (HGUs) – TB-362 and TB-380. The HGUs are powered by MaxLinear's innovative G-PON and XGS-PON PRX chipsets and also use MaxLinear's advanced Wi-Fi solutions, which includes the world's first single-chip, tri-band Wi-Fi 7 SoC. The gateways represent a significant milestone in the broadband industry, offering high-speed, fully featured PON internet access to cater to the growing demand for triple-play, or bundled, services worldwide. The HGUs are available now.
Targeted at the mainstream market, Gemtek's TB-362 and TB-380 are equipped with advanced MaxLinear 10G PON and Wi-Fi 6 SoCs, offering a comprehensive in-home connectivity solution that is fast, responsive, and reliable. Gemtek's TB-362 is a dual-band Wi-Fi 6 XGS-PON HGU with one port 2.5GbE, 4-port GbE LAN which provides high-speed XGS-PON internet access while the TB-380 is a dual-band Wi-Fi 6 G-PON HGU with one port 2.5GbE, and 4-port GbE LAN and provides high-speed G-PON internet access. Moreover, with the integration of Gemtek-specific OMCI parameters that seamlessly interface with different EMS and OLT systems, the TB-362 and TB-380 assist service providers in efficiently managing, operating, and diagnosing their fiber networks. This not only lowers operational costs but also accelerates service time-to-market while minimizing investments in IOP, making them a compelling choice for both providers and end-users.
"With these two new fiber/Wi-Fi 6-enabled gateways from Gemtek gateways, MaxLinear now addresses all different fiber PON CPE deployment scenarios, from SFP+ PON ONUs and PON SFUs to Wi-Fi 6 and Wi-Fi 7-based HGUs," said Will Torgerson, VP and GM of the Broadband Business Unit. "We're able to offer the market broad-based solutions for fiber access that are scalable, future-proof, and high performance."
XGS-PON has emerged as the rapidly advancing technology choice for Fiber-To-The-Home (FTTH) installations, supplanting outdated copper, cable, and older optical access methods. Meanwhile, G-PON maintains its position as a dominant fiber technology in current use. The global PON equipment forecast is strong, estimated at approaching $35bn in 2030, from $13bn in 2023, according to Fortune Business Insights.
"We are very excited to work with MaxLinear on these new gateways. These HGUs bring versatility to the table, accommodating various deployment scenarios at the end-user site thanks to their configuration," said James Lee, President of Gemtek. "Not only do they provide premium high-speed PON internet access, but they also deliver the lightning-fast Wi-Fi 6 experience to a broader range of households at budget-friendly price points."
About MaxLinear's 10G PON Solution
MaxLinear's BBF.247 certified PRX SoC family offers a scalable solution, allowing for a smooth transition from gigabit to 10G fiber access solutions. The systems-on-chip support various ITU-T PON environments, including GPON, XG-PON, XGS-PON, NG-PON2, and active optical Ethernet point-to-point connections. The PRX devices are tailored for a range of applications, including fiber to the home (FTTH) optical network units (ONUs) such as single-family units (SFU), small form-factor pluggable plus (SFP+), home gateway units (HGU), 5G infrastructure equipment, and fiber to the distribution point (FTTdp) applications.
MaxLinear's 10G PON chipset is an economical, low-power, and highly integrated design capable of meeting diverse service delivery requirements, from residential to business applications. It incorporates essential components like a 10G PON MAC, SerDes, XFI, 2.5G Ethernet PHY, PCIe v3.0 interfaces, and a DDR3/4 controller. Furthermore, the MaxLinear 10G PON chipset boasts quality of service (QoS) and power management capabilities, carrier-grade features, timing synchronization, and OAM hardware acceleration. With a dual-core, multithread processor and dedicated packet processing, it offers unparalleled service application flexibility and impressive performance. Additionally, it supports network timing synchronization protocols like IEEE 1588v2, synchronous Ethernet, or time of day (ToD), ensuring precise clock accuracy for 5G/LTE mobile base stations.
About MaxLinear's Wi-Fi Solutions
MaxLinear's Wi-Fi 6 and Wi-Fi 7 System-on-Chips (SoCs) represent cutting-edge advancements in wireless networking technology.
Designed to deliver both fast and consistent connectivity in home Wi-Fi routers, gateways, and intelligent range extenders for cable, xDSL, fiber, and consumer retail infrastructure, the Wi-Fi 6 SoCs, built on the 802.11ax standard, offer significant advancements in speed, capacity, and efficiency. They excel in providing faster data rates, reduced latency, and better performance in crowded network environments.
MaxLinear's Wi-Fi 7 SoCs offer a world's-first single chip solution that helps to reduce board complexity, size, and BOM cost. Further, the single chip affords a seamless, coordinated view of multiple bands for an optimal Multi-Link Operations experience. With multi-gigabit speeds, low latency, and support for a massive number of connected devices, MaxLinear's Wi-Fi 7 SoCs are poised to revolutionize wireless communication, enabling next-generation applications such as augmented reality and ultra-high-definition streaming. MaxLinear's commitment to innovation ensures that these SoCs will play a pivotal role in shaping the future of wireless connectivity.
About MaxLinear, Inc.
MaxLinear, Inc. (Nasdaq: MXL) is a leading provider of radio frequency (RF), analog, digital, and mixed-signal integrated circuits for access and connectivity, wired and wireless infrastructure, and industrial and multimarket applications. MaxLinear is headquartered in Carlsbad, California. For more information, please visit https://www.maxlinear.com/.
About Gemtek
Established in 1988, Gemtek Technology Co., Ltd. (TWSE Stock Code 4906) is one of Taiwan's leading companies in the Wireless Communications Technologies Industry, and remains steadfast in its chief position, constantly striving to perpetuate its legacy in this field. Over the years, Gemtek has transformed itself into a top-notch Original Design Manufacturer (ODM) for total solution providers. Gemtek employs an outstanding team of experienced research and development professionals, and is one of the few manufacturers in Taiwan that offer key technologies for Wireless Area Network and Broadband Network products.