Description
The SP7650 is a synchronous step-down switching regulator optimized for high efficiency. The part is designed to be especially attractive for dual supply, 12V or 24V distributed power systems stepped-down with 5V used to power the controller. This lower VCC voltage minimizes power dissipation in the part and is used to drive the top switch. The SP7650 is designed to provide a fully integrated buck regulator solution using a fixed 300kHz frequency, PWM voltage mode architecture. Protection features include UVLO, thermal shutdown and output short circuit protection. The SP7650 is available in the space saving DFN package.
Features
2.5V to 28V step-down achieved using dual input
Output voltage down to 0.8V
3A output capability
Built in low RDSON power switches (40 mΩ typ)
Highly integrated design, minimal components
300 kHz fixed frequency operation
UVLO detects both VCC and VIN
Over temperature protection
Short circuit protection with auto restart
Wide BW Amp allows type II or III compensation
Programmable soft-start
Fast transient response
High efficiency: greater than 95% possible
Nonsynchronous start up into a pre-charged output
Small 7mm x 4mm DFN package
Documentation
Datasheet

Application Notes

Manuals

Product Brochure

Spice Models - Generic

Spice Models - OrCAD

SIMPLIS Models
Design Tools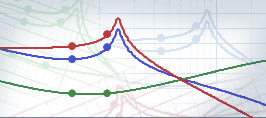 Symbols & Footprints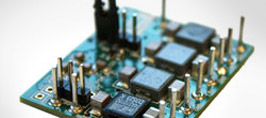 Packaging
Pkg Code
Details
Quantities
Dimensions
PDF
DFN26 7x4

JEDEC Reference: n/a
MSL Pb-Free: L3 @ 260ºC
MSL SnPb Eutectic: n/a
ThetaJA: 36ºC/W

Bulk Pack Style: Canister
Quantity per Bulk Pack: n/a
Quantity per Reel: 3000
Quantity per Tube: n/a
Quantity per Tray: n/a
Reel Size (Dia. x Width x Pitch): 330 x 16 x 8
Tape & Reel Unit Orientation: Quadrant 1

Dimensions: mm
Length: 7
Width: 4
Thickness: 1.00
Lead Pitch: 0.5
Parts & Purchasing
Show obsolete parts
Part Status Legend
Active - the part is released for sale, standard product.
EOL (End of Life) - the part is no longer being manufactured, there may or may not be inventory still in stock.
CF (Contact Factory) - the part is still active but customers should check with the factory for availability. Longer lead-times may apply.
PRE (Pre-introduction) - the part has not been introduced or the part number is an early version available for sample only.
OBS (Obsolete) - the part is no longer being manufactured and may not be ordered.
NRND (Not Recommended for New Designs) - the part is not recommended for new designs.

Quality & Environmental Data
| Part Number | RoHS | Exempt | RoHS | Halogen Free | REACH | MSL Rating / Peak Reflow | Package |
| --- | --- | --- | --- | --- | --- | --- |
| SP7650ER-L/TR | N | Y | Y | Y | L3 / 260ᵒC | DFN26 7x4 |
Click on the links above to download the Certificate of Non-Use of Hazardous Substances.
| Distribution Date | Description | File |
| --- | --- | --- |
| 05/01/2017 | Embedded FETs updated to latest production version. | |
| 01/05/2017 | Addition of an alternate qualified location, ANST, China. | |
| 07/26/2016 | Product discontinuation notification. Discontinued. | |
| 10/16/2013 | Qualified PPF (NiPdAu) lead termination finish in assembly to replace matte-tin plating. Material change. | |
| 10/04/2013 | Addition of an alternate qualified assembly site, UTAC Thailand, for assembly using copper or gold wire bonding. Material change and alternate assembly site. | |
| 02/28/2007 | Product Obsolescence Letter and Discontinuation Notification. Discontinued. | |
Support
Search our list of FAQs for answers to common technical questions.
For material content, environmental, quality and reliability questions review the Quality tab or visit our Quality page.
For ordering information and general customer service visit our Contact Us page.
Frequently Asked Questions
The best way to determine this is to go to maxlinear.com and type the part into the search function. At or near the top of the results you should see something that looks like:
In this example, we looked for XRA1201. Click on part number header or on the link at the bottom of the result. This brings you to the product page. For example:
Click on Parts & Purchasing, highlighted with the blue arrow above. The screen changes to:
Notice the status column and the "Show obsolete parts" link. A legend tells you the definition of the different statuses. Click on the "Show obsolete parts" link to see EOL or OBS part numbers along with the Active part numbers, the legend still present:
Another method to find out if a part is OBS or EOL is to click on SUPPORT at the top:
And then Product Change Notifications:
Type the part into the search, and click on one of the part numbers from the drop down menu. Then you can look for the Product Discontinuation Notice, which generally is at the top of the list, for example:
If you see this, it tells you that this particular orderable part has been discontinued and when the last order date is, or was. If you click on the file, then you can view the notice we sent about this if you purchased the part in the recent past. It may also advise of a replacement part. When an orderable part first becomes discontinued, Product Discontinuation Notices are sent are sent to those who have purchased the parts in the recent past, if purchased directly, with a dated opportunity to place a last order.
Submit a Technical Support Question As a New Question